Magnetic Resonance Imaging (MRI) uses a magnetic field and radio waves to generate cross-sectional images without the use of X-Rays. MRI produces detailed and clear images of the body, especially the brain, spine, joints, bones, organs & soft tissues. MRA is a specialized type of MRI which produces images of the vessels in your body.
Our MRI scanner, television & technologists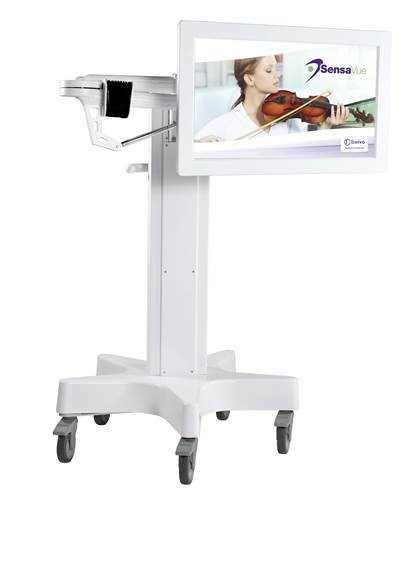 At Guilford Radiology, we offer state of the art MRI exams with the GE Signa Voyager 1.5T, 70 cm large bore MRI scanner. It is one of the best scanners available—combining high field strength with a very open & comfortable feeling.
Now you can watch TV while getting your MRI! With our latest technology, SensaVue, the SensaVue system plays a variety of media entertainment options on a high-resolution 32" screen. This screen is mounted on a movable cart with a swinging arm and can be positioned virtually anywhere in the MRI suite. You can choose from music, pictures or videos or bring your favorite personal entertainment to play through the DVD player. Relax and watch TV to help comfort and ease all patients including our pediatric patients and helps with all patient anxiety. Watching TV helps take your mind off the scan and especially minimized claustrophobia.
We will guide you through this exam with the utmost attention to your needs. Our knowledgeable, professional team will put you at ease and answer all of your questions before the exam. We do everything possible to make your experience with us comfortable & relaxing, watch TV or we can provide music headsets, pillows and blankets. Please note that our MRI table has a weight limit of 440 pounds.
What to Expect
At Guilford Radiology we care for each individual patient's needs, and we schedule accordingly. We allow ample time for reviewing your history (click here to access your MRI questionnaire MRI Questionnaire and screening sheet), making sure your clothing is safe for the scanner, screening for metal or anything non MRI compatible and pay special attention to our patients. Our technologists are experienced, certified, and most important kind & patient. They will guide you through the entire process with as much comfort as is possible. Depending on the body part we are scanning, the exams take anywhere from 20-45 minutes. You should plan to be at our office for 30-90 minutes.
Prior to scanning, our MRI technologist will review your medical history. You will be asked to fill out a MRI Questionnaire and screening sheet to review any past surgical history. If you are pregnant, have a pacemaker, an aneurysm clip in the brain, or a permanent ear implant you may not be a candidate for an MRI. Many MRI compatible devices are now available, please have your specific information available and call us prior to your exam to see if your devise is compatible.
You will have a comfortable private changing room, with a secure locker for your valuables. You will need to remove all jewelry, hairclips, bobby pins and hearing aids. In addition, you will need to remove clothing containing metal including bras with metal enclosures and jeans with metal zippers and buttons. You will be provided a gown pants or shorts if needed.
An MRI generally takes 30-60 minutes of scan time. MRI is very motion sensitive. You will be asked to hold very still during the entire exam. Some MRIs require intravenous (IV) contrast, and if needed, your doctor may do a blood test to check your kidney function prior to your study. Our technologists are experts at placing the IV's, and the injection is painless.
Your Results
Your doctor(s) will receive a full detailed written report from our highly trained MRI radiologists within one day. If requested, we will provide you with a CD copy of your exam to bring to your referring physician on your follow-up visit. Your doctor can also view your images and our report on our online PACS. Our goal is to provide you with the highest level of customer service and image quality in a caring and supportive environment.
MRI - Quick Reference Guides
All our MRI quick reference guides can be found in our Patient Exam Information in our patient portal.
Click here if you are scheduled to undergo an MRI and wish to complete your MRI Screening Questionnaire prior to your visit.
Questions?
If you have any questions or concerns about your procedure, feel free to call us at 203-453-5123 or ­contact us online.